Looking for Pricing?
Are you looking to get a quote for your organization? - No pricing will be given over phone. You must request a quote above.
Click the 'Quote Request' link above and fill out the online form making sure that the address you enter is your 'Ship To' address. Base quotes will include quote for an ATR-1, ATR-2 and Rear Seat. Additional items can be quoted, leave this information in the comment section. We will normally respond within 2 to 3 business days, during normal business hours.
---
If you get a warning about captcha on the form(s)
Please send us an email to empireweldfab at gmail dot com as we have been having issues with the spam coming through our forms. We have been working to resolve all issues but there may be some problems still and while we test things from our end, it still may malfunction and we do not know it. Thank you.
---
The All Terrain Rescue Trailer
The All Terrain Res-Q™ rescue trailer is a very effective means of transporting patients out of rough terrain or wildland situations. The ATR trailers can be towed by all terrain vehicles, the larger utility vehicles and snowmobiles. These rescue trailers offers a host of features and accessories that will assist emergency responders in caring for their patients while they are transported to a waiting ambulance or helicopter landing zone.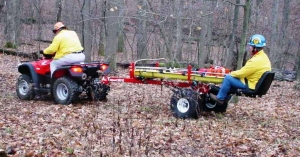 New Article in Off Road Rescue News
ATV rescue units can speed up Greenway - Go to article Click Here
Re-Sellers Wanted
To find a Dealer/Re-Seller in your area click here. We are looking for Re-Sellers all over the United States. If you are in the fire service industry and are interested, please contact us through our Re-seller Info Request page to request more information on becoming a Re-Seller. Also, please check our Dealer page to see if there is a current Dealer in your area.